Heidts-equippped AMXess Project Showcases Street, Track and Autocross Performance Capabilities
Heidts dealer, D & Z Customs completed a one-of-a-kind '69 American Motors AMX "pro touring" build just in time to be debuted at the 2011 SEMA Show in Las Vegas. Immediately after leaving the SEMA Show, the car competed in the final event of the Optima Ultimate Street Car Invitational Challenge at Spring Mountain Motorsports Park in Parhump, NV.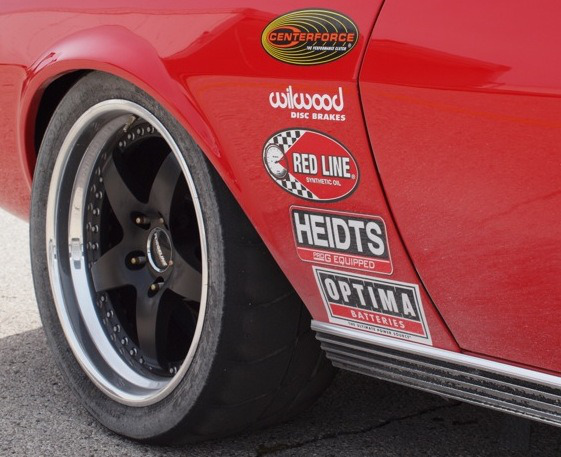 Since that debut event, the car is being used just as it was designed and built for: driving! Named AMXess, Jimi Day's red and white rocket is powered by a GM LS engine making 550 horsepower and is fitted with a customized Heidts Pro G front suspension. Below are some of the highlights of the "event reports" that Day sends us. Be sure to check out the videos as well.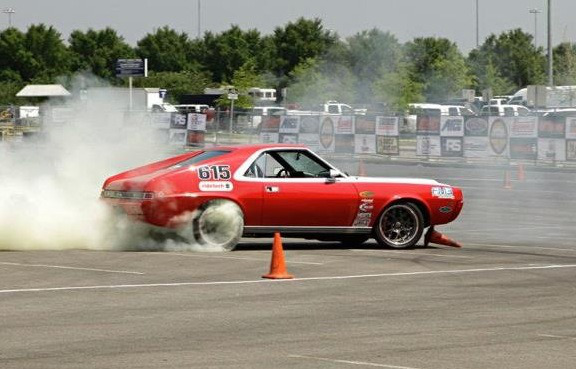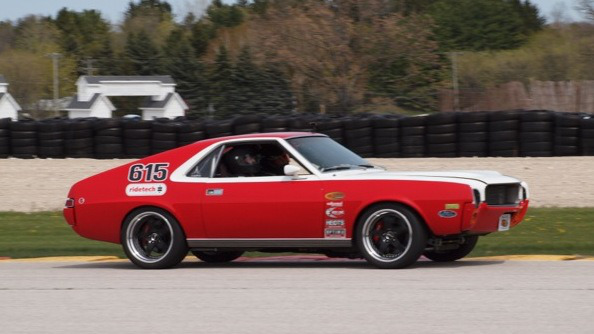 Road America Highlights (from Jimi Day)
"During our testing sessions in April, we discovered that AMXess had a troubling characteristic I call "snap loose".  The front sticks so well that we were unable to create any understeer, and under hard cornering, the front and rear would stick like glue right up until the time it didn't, and the rear end would quickly snap all the way around.  Not a good scenario.  I like a car to be able to drift just slightly under hard cornering and be a little more predictable before it comes all the way around.  Randy and I put our heads together and decided that we needed more compression adjustment capabilities to compensate for the short wheel base (97″).  A Saturday afternoon call to my good buddy Bret at Ridetech confirmed our diagnosis and on Tuesday, a beautiful set of Ridetech triple adjustable shocks arrived at the shop!  AMXess was now ready for the track.
AMXess was fast right out of the box.  I was running in the B group with some pretty fast cars – Nissan GTR's, lots of Corvettes, Mustangs and Porsches.  Needless to say, I had the only AMC product on the entire 500 acre facility.  However, AMXess and Re-peeled (D&Z's Heidts Pro G equipped '70 Camaro) were surrounded by spectators and other racers all day long both days.  If we had a nickel for every picture that was taken, neither Randy nor I would have had to pay for any of the 25 gallons of fuel we went through over the weekend!
At the end of the weekend, both muscle cars really impressed not only the spectators, but earned the respect from the other drivers in our group.  Of the 30 cars in the B group, AMXess was in the top 10, turning a fast time of 2:41 on Sunday.  Not bad for a 42 year old muscle car with a 97″ wheelbase.  This is the point in the update where I give Randy Johnson all the credit in the world for being a near miracle worker.  I ask him to use an orphan car that's way under-respected with a short wheelbase and turn it into a street and track dominator – and he did!  His suspension knowledge and fabrication skills coupled with his keen eye for clean design made AMXess everything I could have dreamed."
Goodguys Rod & Custom Show – Nashville
AMXess made an appearance at the Nashville Good Guys show this last weekend in Nashville, TN.  It was the feature car in the OPTIMA Batteries booth, although it spent much of Friday and Saturday entertaining the huge crowd surrounding the OPTIMA sponsored Good Guys autocross.  As you know, AMXess has performed really well on the big road course at Road America.  But our goal was to build a car that was as versatile as could be which means it needs to be functional and perform well in any situation.
With that said, we put AMXess to the test and decided to drive from Grafton, WI to Battle at the banks in Salem, IN.  No support vehicles, just a simple tool set and an extra quart of oil and brake fluid.  Our trip took us from Grafton to Princeton, IL, then down to Scottsburg, IN.  We competed in the Battle finishing 11th against a very tough field.  From there is was another road trip on Sunday over to Sullivan, IN to the local home town car show, then down to Vincennes, IN.  Next, AMXess made a stop at Ridetech for a quick bath before heading on down to Nashville and two days of auto-crossing fun.  992 miles, including 2 competitive events, 22.4 MPG overall, no support vehicle – NO PROBLEM!  Versatility all wrapped up in a 550 HP shiny red shell!
As I write this, AMXess is in Lawrenceville, IL prepping for the upcoming Midwest Musclecar Challenge this weekend at Mid America Air Park.  Road course, autocross, drag race, show & shine and a road rally – then my wife and I are going to drive it back to Grafton (WI).  I'll be sure to capture some great pics and video.
Oh, the autocross results from Nashville – well, the photo above tells a lot! With the help and advice of many folks (especially Rockin' Rob McGregor), I got AMXess into the mid 35 second range with fast lap of 35.6.