Heidts-equipped AMXess Competes in 2012 Real Street Eliminator at Car Craft Summer Nationals
Built by D & Z Customs, Jimi Day's AMXess is a one-of-a-kind Pro-Touring '69 AMX that has been hitting the event circuit very hard in 2012. After making it's public debut at the 2011 SEMA Show in Las Vegas, Day has been driving and racing this unique Heidts-equipped muscle car at events all over the country, including the recent Car Craft Summer Nationals in St. Paul, MN. Here is his report from the event.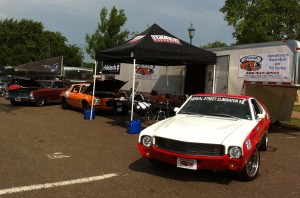 AMXess attended the Car Craft Magazine Street Machine Nationals this last weekend in St. Paul, MN.  The CC Nats has been around nearly forever and continues to be one of the most anticipated events in the street machine arena.  Over 5,000 cars invaded the Minnesota State Fair Grounds and there was certainly a variety of build styles on hand.  Everything from for classic hot rods, crazy rat rods, fully restored muscle cars, vintage pro-street cruisers, some things we couldn't really identify, and a host of G-machines made for an awesome mix of automotive creativity and ingenuity.
AMXess was invited to participate in the Real Street Eliminator competition – a series of points events including an autocross, dyno challenge and launch box.  As well, Randy Johnson, owner of D&Z Customs and builder of AMXess, was chosen as one of six pro builders to compete in the Car Craft Pro Builder Shootout and he submitted AMXess as his entry – so we were doing double duty!  Randy was the only Pro Builder that had a car competing in the RSE competition – a real tribute to his building talent.
AMXess came out of the box fast – we put down the RSE autocross and launch box times to beat early in the weekend with a 21.56 and 2.98 respectively.  On Saturday, there were only two other cars on the entire property in the 22's and no other car had run under 3 in the launch box.  The trouble with leading going into the final hours is that you become a sitting duck and all you can do is try to defend.  Our toughest competition (and my personal nemesis) was the Crusher Camaro owned by the Leisinger family.  They were nipping at my heels most of the weekend, but going into Sunday, they pulled out all the stops and managed a 21.48 on the autocross and 2.96 in the launch box.  That was enough to relegate AMXess to a 2nd place tie for the RSE – disappointing to say the least.  Knowing the Crusher Camaro as I do, I felt a bit like we had a knife at a gun fight, but we're already working on some improvements to get that monkey off our back.
All of the parts we have on AMXess are working flawlessly. As planned, we're beating the living hell out of the car.  In the last three months, we've put over 4,500 highway, city, track and autocross miles on the car.  This is a tribute to all of the quality parts and I want to thank everyone for the never-ending technical support and advice.
Jimi Day
Congratulations Jimi! Keep up the great work… and kudos to you and the team at D&Z Customs.